Event Navigation
Intro to Kundalini Yoga
Room: Small Room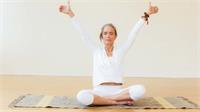 Join us as Nita-Rose introduces the Modo Community to Kundalini Yoga also known as the "Yoga of Awareness". Learn dynamic, powerful tools designed to give an experience for the soul. The practice of Kundalini Yoga harnesses the mental, physical, and nervous energies of the body and puts them under the domain of the will.
This practice precisely and consciously combines breath, mudra, eye-focus, mantra, body locks, and postures to balance the glandular system, strengthen the nervous system, expand lung capacity, and purify the blood system.
Even a small practice of Kundalini Yoga (three minutes a day) will create greater peace, relaxation, and a deep satisfaction with relationships, work, and creativity.
Cost: $30 (10% off for Modo Members)