Mom & Me Aerial Yoga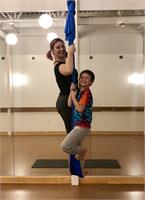 Swing, lift, suspend & sway together! Practicing partner aerial yoga can cultivate a stronger bond between parent and child. Experience a traditional aerial yoga practice while adding in poses with two peas in a hammock.
This class is playful, energizing, and fun for all. The hammock is used as a prop for deeper stretching, inversions, decompression, balancing poses, swinging, and partner poses.
Breathing and relaxing in the cocoon of the hammock at the end of class will leave you both with a sense of peace and revitalization.
Ages 8+ | Cost: $45 (10% for Modo Members) per pair [Mom + Child]